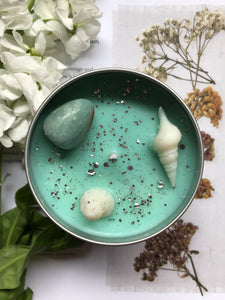 Hand poured soy wax decorated with soy wax shells and biodegradable glitter . Fragranced with Seaweed and Juniper Fragrance Oil it has a fresh invigorating accord opening with refreshing notes of white tea, lemon, mandarin, pear and green tea with a light floral background with amber and soft woods.
The Crystal adorning this candle is Amazonite it has a beautiful frequency with its name coming from the amazon river, this Crystals frequency is about the flow of energy truth emotions, personal truth, communication it's energy can help release that stuck feeling .
Great to use on your heart chakra it's aids us to deal with emotional toxins that we've suppressed or carried around with us without realising. Balancing our  emotions at times of stress trauma ever those quick to anger can benefit from Amazonite .
225ml 40 hour burn time. 
Always allow wax to completely melt to the edge on the first burn, don't burn for longer than 4 hours per use trim your wick in between using for a better quality burn always read safety instructions before using .