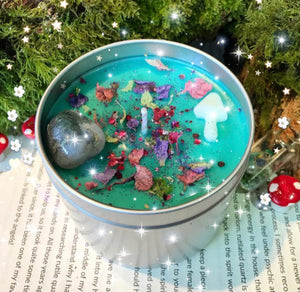 This hand poured soy wax candle is fragranced with jasmine Smelling like freshly picked Jasmine flowers with a woody undertone and dusted with violet and pink mallow petals.Faeries are from the elemental kingdom They love the earth, environment, nature and they have magical healing powers. 

The Crystal adorning this candle is green moss agate its the perfect gardeners crystal connecting you back to earth keeping you grounded try to spend more time in nature, especially in nature plant flowers and herbs, take care of wildlife the faeries love that .
225ml 40 hour burn time. 
Always allow wax to completely melt to the edge on the first burn, don't burn for longer than 4 hours per use trim your wick in between using for a better quality burn always read safety instructions before using .