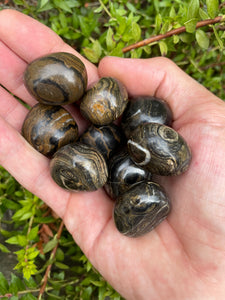 Stromatolite is over 3 billion years old it holds the ancient knowledge and wisdom of our ancestors it's a great crystal for accessing past lives and our ancestral  lines . 

Stromatolite can help us to distinguish between what we want and what we need in this life, between what is significant and what is insignificant. It provides us with a grounding energy and is said to help cleanse the surrounding energy in any environment into which it is placed. 
It relieves emotional stress and helps us feel calm,  grounded and connected to mother Gaia .  
Stromatolite can make us more adaptable to situations, helping us to leave behind old thoughts and ways of doing things and to be much more open to innovative ideas.