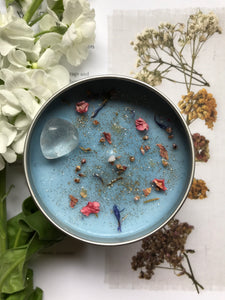 Hand poured soy wax decorated with pink rose heather and cornflower. The fragrance will take you to the sea with reminiscent of waves breaking white, the air fresh with sea salt and spray with notes of the rugged cliffs. Mingling with the woody earthiness of sage.  
The Crystal Adorning this candle is clear Quartz it's known as the "master healer" and will amplify all energy and intention It absorbs, stores, releases and regulates energy. Clear Quartz protects against negativity it will strengthen your connection to your higher self.
 225ml 40 hour burn time. 
Always allow wax to completely melt to the edge on the first burn, don't burn for longer than 4 hours per use trim your wick in between using for a better quality burn always read safety instructions before using .